What Is a Dental Implant?
Dental implant surgery is a procedure that is performed to correct tooth loss caused by disease or injury. In order to replace the missing tooth, dental implant surgery involves screwing dental prostheses into the jawbone. Since these treatments require careful surgical applications and it is crucial for the patients to make an informed decision about having the surgery. Unfavorable outcomes may occur if the patient is treated without receiving detailed information about dental implants.
A Step by Step Guide to Dental Implant Process
There are 2 common types of dental implant treatments. Patients can choose either one of the options according to their needs;
Same-Day Dental Implants:
Same-day dental implant treatment is a convenient procedure that can be completed in a single day suited for patients who do not wish to wait long for the treatment. While it is common to have 3 dentist visits if you are getting conventional dental implants, same-day dental implants require only 1 day.
Conventional Dental Implants:
Patients who opt for conventional dental implants must schedule 3 appointments with their doctors at intervals of a few months.
If the patient chooses to receive sameìsay dental implant treatment, the next steps are as follows:
During the first visit, the patient receives local anesthesia and a dental impression of the teeth is taken for the modeling of the prosthetic tooth. The implant is placed in the area of the jawbone where the missing tooth is located. With this, the initial procedure is concluded.
During the 2nd visit, an abutment is attached to the patient's implants. The dental implant abutment is an important element for the connection required to join the prosthesis and the implant.
Finally, in the 3rd visit, the prosthesis is fixed to the implant.
Same-day dental implant treatments follow the exact same process. However, the entire procedure is completed during a single dentist appointment. In recent years, same-day dental implants have become one of the most popular treatments.
Dental Implant Procedure
Dental implant treatment is determined by the state of your jawbone and the kind of implant used. Although dental implant surgery may include a number of procedures, the advantages and benefits of implants exceed the disadvantages. The main benefit of dental implants is that they give your new teeth strong support and protection. It is a procedure that enables bone healing around the implant. This method makes it possible for the bone to heal around the implant.
Due to the length of time required for bone healing, the process will take several months. However, Turkish dentists offer an option referred to as "Same-Day Dental Implants". It typically takes 8 to 10 days for the first step of dental implant treatment, and 7 days for the second step. If your jawbone is in good enough shape for a tooth replacement, Same-Day Implant offers to complete the first stage of therapy in 24 hours.
Who Is Suitable for Dental Implant Surgery?
Everyone whose bone development is complete is a candidate for dental implants. Anyone over the age of 18 who has missing teeth is eligible for dental implants and can benefit from receiving dental implant surgery. Most people prefer implants because they are permanent procedures. The patients can receive one or more implants. In patients without complete bone development, the jawbone structure may occasionally be insufficient for the procedure. In such cases, the patient undergoes bone grafting before the dental implants are placed.
Even when the patient has a suitable bone structure, it is occasionally necessary to treat unhealthy teeth with root canals. In this case, the patients receive dental implant treatment following their root canal treatment. To have the best results, it is important that your mouth is in a healthy condition. For this reason, it is recommended that the patients quit smoking or heavy drinking as well as treat gum disease before receiving dental implant treatment.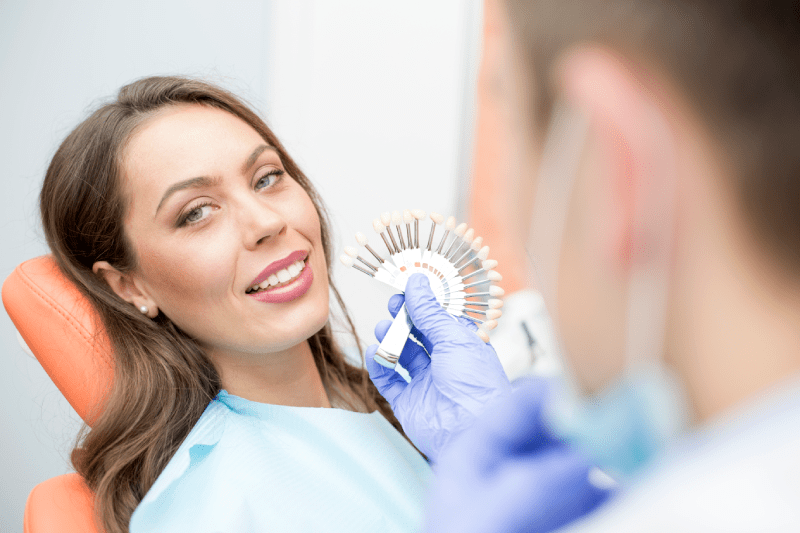 Is Dental Implant Treatment Painful?
Sometimes, patients can experience anxiety about the dental implant process. Of course, it is understandable to worry about experiencing pain during the treatment. However, it is important to note that the patients are given local anesthetics and therefore will not experience any pain during the operation. This enables the treatment to be completed smoothly. The patient will only be exposed to the sounds made by the devices used for the operation. Additionally, patients who experience anxiety about visiting dentists can ask for general anesthesia.
Either on local or general anesthesia, the process will be rather painless. It is common for patients to have some pain following the treatment when the anesthetic wears off. This pain usually will not be intolerable, but it might feel uncomfortable for a short while. In the end, generally, the whole process is completed in a comfortable manner.
Are Dental Implant Treatments Risky?
What determines how likely dental implants are to fail is the doctor's experience. If you receive dental procedures from an expert dentist, Your likelihood of suffering the following complications will be minimal. In order to avoid the following problems, it is crucial for the patient to select a skilled surgeon for dental implants.
You can get in touch with us if you'd like to receive care from a reputable dentist but are having problems finding one by yourself. This way, you will not be risking your dental health. Because as CureHoliday, we guarantee the best price from experienced and successful surgeons. Below are the risks that can be experienced in case of unsuccessful treatments;
Tooth Sensitivity
Toothache
Sinus damage
Infection
Nerve damage
Prostheses feeling uncomfortable
Additional treatments after failed implants
Advantages of Dental Implant Treatments
Treatments for dental implants are permanent. Because of this, the patient does not have to constantly put or take off the dental prosthetics. Additionally, it is simple to apply dental implants to the front and back teeth. The result will look natural and the implants will have the same appearance as your own teeth. From a distance, the prostheses will be unnoticeable.
Another advantage of receiving dental implant treatment is that the patients will find it easier to speak and eat thanks to their improved mouth health. You will be able to talk clearly and pronounce words accurately. Eating will not make you feel like your teeth are about to fall out. Moreover, the implants are incredibly simple to maintain. They do not need any extra care. They will not be damaged in any way as long as you practice good oral hygiene on a daily basis. Additionally, having missing teeth, particularly in the anterior teeth, has a detrimental impact on the patient's self-esteem and adversely affects them psychologically.
By replacing the front teeth with prosthetics, the patients will feel better about themselves and find it easier to engage in social activities. The durability of dental implants is yet another benefit. They do not fracture, come off, or change color. These can only occur on rare occasions due to accidents.
Why Should I Receive a Dental Implant?
Similar to how roots support natural teeth, dental implants can also support crowns or dentures. Losing teeth can affect your ability to eat, speak, and interact socially as well as your self-confidence. The replacement of teeth with dental implants is a very convenient treatment as it is long-lasting and durable.
The dental implant itself is a titanium product that is positioned directly on your jawbone and covers your fractured tooth root. Once your implant tooth is implanted, the bone that surrounds it ultimately fuses to the tooth, firmly securing the implant. The implant teeth (abutment/support) are connected to an artificial tooth (crown or denture), which provides results in a natural-looking and charming appearance.
In dental implant surgery, artificial teeth are used to replace missing, broken, or damaged natural teeth. Metal screws that resemble natural teeth and perform like natural teeth are used to replace the tooth roots. As an alternative to bridges or dentures, dental implants are a fantastic solution. When your natural teeth are missing and your root structure prevents tooth replacement options such as dentures or bridges, you might think about getting implants.
The Best Dental Clinics in Turkey
Turkey provides very effective dental implant treatments. Dental implants are procedures that call for attention and care. Therefore, it's critical to make sure the process is successful. Turkey's top clinics offer excellent quality services such as;
Experienced Surgeons; If the doctor has the expertise and experience handling any complications that may arise during treatments, dental implant surgeries can be a painless and comfortable process for the patients. As a result, the patients do not experience negative outcomes.
Technological tools; The finest results from treatments will be obtained if the clinics' equipment is up to date technologically. The size of the prosthesis is important for the patient to be comfortable after receiving dental implants. Best results can be achieved with the latest technologies in dentistry.
Hygienic Clinics; For dental implants to be successful, hygiene is crucial. Dental implants are treatments that call for several procedures. Patients should therefore receive treatment in clean settings. In this aspect, Turkey is a very meticulous nation. Additionally, its citizens are generally hygienic and place great importance on sanitation. Clinics exhibit the same characteristics.