What Does the Dental Implant Process Look Like in Turkey?
Dental Implant Procedures in Turkey
Dental implants are the most modern and permanent method of restoring your smile and self-confidence when replacing missing or damaged teeth. When teeth are missing, it can be challenging to eat, communicate, or even socialize. One of the best ways to improve your smile is with dental implants. If you are seriously thinking about getting dental implants, you should learn about the dental implant treatment steps to comprehend everything that the treatment entails. You should also talk to your Turkish dentist about whether or not dental implants are the right alternative for you.
You should first visit your dentist to discuss the possibility of getting dental implants since not everyone is eligible due to conditions with their jawbone, mouth, or teeth. Let's now go over the tooth implant process in detail.
Step-by-Step Guide to the Dental Implant Process in Turkey
Initial Consultation
Find a qualified dentist who offers top-notch tools and equipment as well as the best implant brands before getting your dental implants. You can be confident that we take great care of our patients in all aspects, including cleanliness, dental care, dental procedures, communication, reasonable costs, and more. Your Turkish dentist will address any concerns you may have at your initial visit so that you feel at ease receiving dental implants. Using dental x-rays, scans, or a medical assessment, the dentist will decide whether you are a good candidate for dental treatment.
Treatment Plan
Your dental treatment plan will be decided upon jointly by you and your dentist in Turkey. You can talk about dental implant procedures at any time, including before, after, or during treatments. To ensure that you do not forget your queries, you can also write them down. You will have to sign a consent document if you choose to receive dental implant treatment.
Depending on whether you have a severe condition or other dental treatments that are required, the implant treatment process typically lasts 3 to 6 months. Your dentist in Turkey will provide you with a treatment plan that offers the most economical dental implant price in Turkey. You can also talk about alternatives to dental implants like bridges or dentures, but they might not give you natural-looking teeth or a permanent solution. If you practice appropriate dental hygiene, your implants will last a long time.
Preparing for the Dental Implant
Depending on the condition of your mouth, you may need additional dental treatments such as tooth removal or bone graft. Let's say you have a problem in one of your teeth that needs removal, or you do not have enough bone in your jaw to support dental implants. In that case, your dentist in Turkey should increase the volume of your bone which is called bone grafting. This can be done by surgically grafting from another part of the body or artificially depending on the extent of the bone loss. Do not forget that bone grafting is a very rare treatment that is not required for every person who needs an implant tooth.
Your dentist will explain how this may alter the length of the treatment if one or both of these treatments are necessary before you can receive dental implants.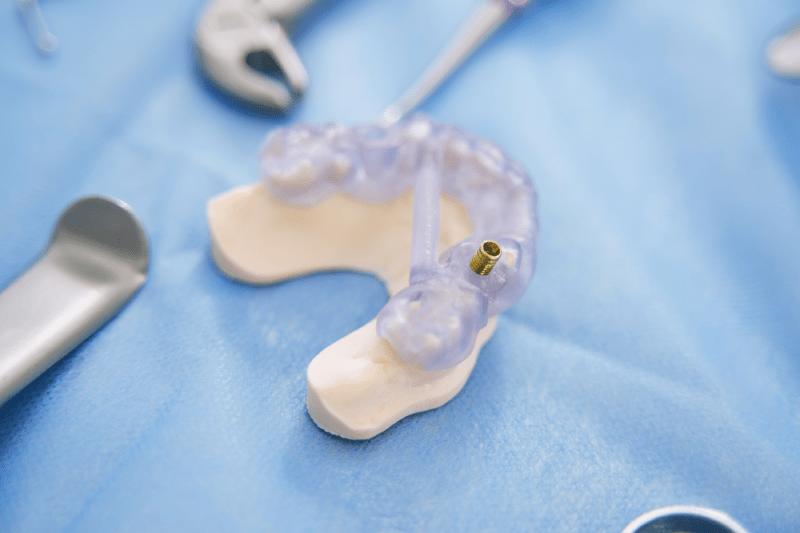 Placement of the Implant
You might be wondering what exactly happens during dental implant surgery. Before the dental implant surgery begins you will be given local anesthesia. This will prevent you from feeling any pain during the operation even though you are awake.
Your dentist will cut the gums and create an opening in the area where they will install a metal implant. Then, the dentist will place the metal screw called an abutment screw into this opening.
General anesthesia can be offered to patients who experience severe anxiety after consultations with their dentist.
Fusion of the Implant With Your Jaw
In most cases, implants are inserted in two stages. This is a common procedure as the jawbone needs time to heal around the implant's base before the replacement tooth, also known as a crown, can be attached to it. After the crown is fitted, it will function and appear like a normal tooth.
A replacement implant often needs a few months to fuse with the surrounding bone. While your mouth heals, you might feel a gap in the operated area of your mouth. This is normal; however, if it is uncomfortable, your dentist in Turkey might offer solutions such as dentures or bridges to help you.
Building and Fitting Your New Tooth
The next step is the construction of your new tooth. Your Turkish dentist will take an impression of your mouth after the abutment has been installed and send it to a dental technician. The technician will construct your replacement tooth such that it mimics the shape, size, and color of the teeth next to it. After three months, you will return to receive your new tooth.
After Your Tooth Has Been Fitted
Your Turkish dental clinic will schedule appointments for you to observe the healing process or to provide you with information on dental implant aftercare once your implant tooth and crown have been successfully fitted. Following the implant operation, there may be some pain or swelling. You can use the painkillers that your dentist has recommended to alleviate the discomfort.
It is important to note that if properly maintained, dental implants offer beautiful and natural-looking teeth that you can cherish for a lifetime. You can get in touch with us if you want more details regarding the price of dental implants in Turkey or other dental procedures.