Advantages of Getting Dental Implants in Turkey
By reading our article on the benefits of dental implants in Turkey, you may get the answers to a lot of your questions. If you need to get dental implants, the first thing you need to consider is in which country you will receive the treatment. You might choose to receive dental care abroad for a variety of reasons. Some of these reasons may be going on a dental holiday, getting better dental implants, or more reasonable prices. Whatever the reason, the county you will choose should offer some advantages.
Dental Implants Are Affordable in Turkey
Implant procedures are highly expensive in many countries around the world. As a result, today, many patients opt for receiving dental treatments abroad. Turkey is one of the best countries to visit for dental treatments. The prices in Turkey are much more affordable compared to many countries. There are two main reasons behind this;
Low costs: Living expenses in Turkey are low. It can be estimated that a clinic in Turkey has expenses between 1,000 to 10,000 euros per month, which is quite low when compared to many other countries. Thanks to this fact, clinics in Turkey can offer many treatments for cheaper prices.
Foreign Currecies vs. Turkish Lira: As foreign currencies such as the dollar or euro climb against the Turkish lira, many foreign currencies become more valuable in Turkey. This positively affects the purchasing power of foreign patients. Currently, 1 Dollar is roughly 17 TL. This gives a great advantage to foreign patients.
Dental Implants Treatments by Experienced Turkish Surgeons
Dental implants are very important procedures. Getting dental implant treatment involves cutting into the gums where the missing tooth is located and placing the metal implants in the jawbone and the cavity where the tooth is placed. The success rate of the treatment is significantly impacted by the involvement of skilled and experienced surgeons to perform this operation. Treatments carried out by inexperienced surgeons are likely to be uncomfortable and painful for the patient. There are many highly skilled dentists performing dental treatments in Turkey. As a result, overseas patients can undergo dental implants in Turkey without worrying about risks.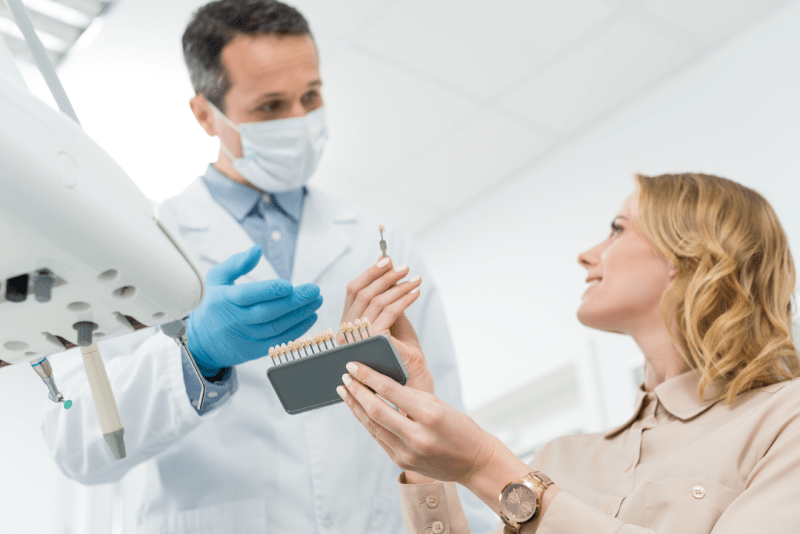 High-Quality Dental Clinics in Turkey
Another important aspect that affects the success rate of dental implants is the quality of the clinic. In order for dental implant treatment to achieve good results, first, a good dental impression of the patient's teeth structure and highly technological equipment are needed. Because of this, the dental clinic you select should be equipped with cutting-edge technology. Technology is needed to create prostheses that are as similar to your natural teeth as possible. This influences how comfortable you are after the surgery.
Modern technology is used by Turkish dental clinics, and patients have excellent dental health as a result of implant therapy.
Dental Implants in Turkey Are Made in Hygienic Dental Clinics
Being hygienic is one of the most crucial aspects of a dental clinic. Any dental treatment requires a sanitary environment in order not to pose any risks. The success rate of the procedure is impacted by the cleanliness of the facility where you will receive dental implants. Treatments that are hygienic stop an infection from spreading to the treated tooth. As a result, the patient can receive effective and painless treatment.
Dental Implant Treatment in Turkey
Would you think about getting a dental implant if you were missing a tooth? Are dental implants the best option for you? Is getting dental implants in Turkey expensive? Do you meet the requirements to receive dental implants? Will the dental implants you get appear realistic and natural? We are available to respond to your inquiries about these issues. Let's examine these inquiries in more detail and learn more about the advantages of dental implants in Turkey.
Frequently Asked Questions About Dental Implants in Turkey
Dental implants are permanent treatments. Because of this, patients should conduct thorough research before beginning treatment and find answers to all of their questions. Continue reading our content in the dental implant information FAQ area to learn more in-depth information about dental implants.
Do Dental Implants Look Like Natural Teeth?
One of the most common concerns about dental implants is appearance. Due to their realistic appearance, dental implants are gaining popularity on a global scale. The prosthesis used in these treatments is created using the color and size of your own teeth as a guide. As a result, it is identical to your other teeth. Dental implants will not be visible to anyone until you let them know yourself. No one will be able to tell that you are wearing a prosthesis since dental implants are completely fixed to your gums. Dental implants are a long-term solution since they fuse with your jawbone and improve the strength and appearance of your teeth.
Do Dental Implants Require Special Care?
As long as you find a good clinic, your dental implants will look and feel just like your natural teeth. Dental implants involve fixing dentures on top of screws fixed to the jawbone. The result will not be distinctive from your actual teeth. However, in order to have good results, you must receive care from reputable clinics. Otherwise, the dental procedures you obtain would require multiple procedures and would not be comfortable for you. These procedures can also be rather unpleasant and painful.
Before dental implant treatment, specific measurements of the patient's teeth must be taken. These measurements will be used to create prosthetic teeth that will fit your mouth the best. This showcases the significance of selecting a competent dentist clinic. Dental implants that were installed in a successful dental operation are quite pleasant and do not need any special care. As long as you practice good oral hygiene and visit the dentist regularly, you can maintain your dental implants for the rest of your life.
Am I a Suitable Candidate to Get Dental Implants in Turkey?
In Turkey, there are a number of requirements for receiving dental implants. You can easily receive dental implant treatment as long as you meet these requirements. You can discover more about dental implants in Turkey and in general by reading our content. The requirements are as follows;
Having enough bone in the jaw: The condition of the jawbone is very important to dental implants. If the patient does not have enough bone in the affected area, they might be unsuitable for dental implants. In this case, bone grafting could be recommended. Patients can continue with the dental implant treatment after bone grafting.
Being 18 years old: Since bone development in humans continues until the age of 18, it is recommended that dental implants be placed after the age of 18 for healthy results.
Can a Patient With Osteoporosis Get a Dental Implant?
Losing a tooth may cause the bone around that tooth to begin to deteriorate. When a tooth is missing, it means that the root area is very weak and there is no ossification/strengthening of the bone. Dental implants boost new bone formation by placing a dental implant in your jawbone. This is called osseointegration and it helps prevent further deterioration of the jawbone. In fact, the jawbone becomes stronger with time after dental implants. People with osteoporosis suffer from a condition that makes their bones weaker and more fragile. However, they can still benefit from dental implants if their jawbone is suitable.
How Long Can I Use a Dental Implant?
The short answer is that implants have a 25-year or longer lifespan if they are installed by a qualified dentist. You will benefit greatly from your trip to Turkey for dental implants since our affiliated dental clinics only utilize the top implant manufacturers. Because in Turkey, you receive dental implant treatments from a trained dentist utilizing a reputable brand of implant, implants typically last longer. The key to using your dental implants for a long time is good dental hygiene and care.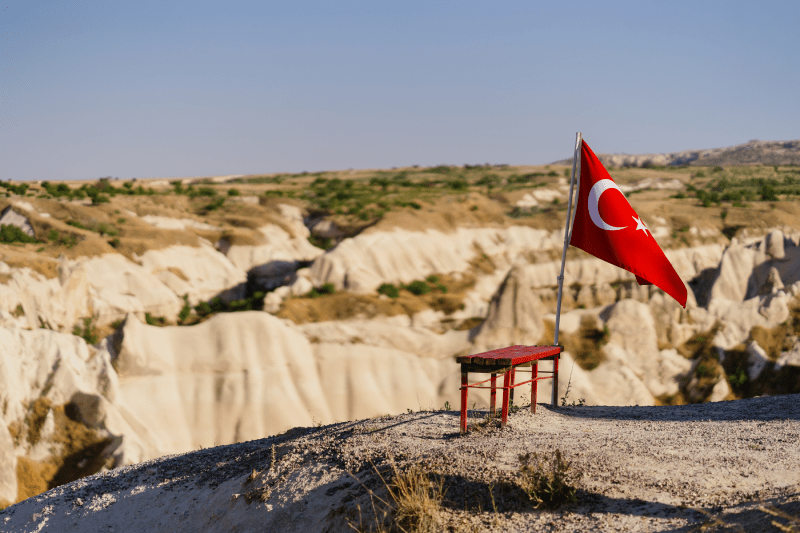 What is the Average Cost of a Dental Implant in Turkey?
Dental implants are one of the most expensive treatments in dental treatment. However, this is not true in Turkey. Like other dental procedures, dental implants are fairly affordable in Turkey. The very high dollar exchange rate and the low cost of living have a direct impact on the cost of dental implants. Patients travel to Turkey for dental implant procedures from all over the world as a result. With its well-equipped dental clinics, cutting-edge dental treatments, and cultural amenities, Turkey caters to numerous tourist needs.
Patients who travel to Turkey for dental implants typically combine their dental implant treatment with a luxurious vacation in cities like Izmir, Istanbul, Antalya, and Kusadasi. This trip's total expense includes both treatment and accommodation. The total price of a dental holiday in Turkey is around the same as what it would cost to simply receive a dental implant abroad. As a result, patients who choose the get dental implants in Turkey pay less, enjoy their holiday and leave with a smile.
What Is the Price of a Dental Implant in Turkey?
Receiving successful treatments in Turkey that meet international standards is not at all difficult. Patients also benefit greatly from receiving extremely economical treatments in comparison to other nations. Although the average cost of dental implants in Turkey is relatively low, CureHoliday offers treatments with the best price guarantee. We cooperate with a lot of successful dental clinics. We serve patients at costs that are lower than the industry standard because of the volume of people we refer to the clinics and the discounts we acquire from them. You can get in touch with us to benefit from this benefit.
Currently, the best price offered by CureHoliday is 290 euros. The clinics we partner with only use the top implant brands. By contacting us, you can receive a successful dental implant treatment using high-quality products for 290 Euros.
Why Is Dental Work So Cheap in Turkey?
Due to the lengthy wait times for dental consultations in their own countries, patients from England and Europe prefer Turkey for implant treatment. It will not take you more than two trips to complete your dental holiday in Turkey for dental implants. The operation can be completed in a single day if your jawbone is healthy enough for dental implants. Your ideal dental holiday to Turkey will be organized by us. When you are in Turkey, you will have time for touristic activities as well.
The dental holiday package includes; a consultation session with your dentist to plan your dental care, dental X-rays, volumetric tomography, welcome services (transfer from the airport to the clinic and hotel), and hotel accommodation (valid for the full package). Crowns and needle-free anesthesia will be used during the operation. You can get in touch with us through our website if you would like more information about the benefits and price of getting a dental implant in Turkey.
What Makes Turkey Different From Other Countries?
Turkey differs from other countries in that it offers guaranteed dental treatments in addition to reasonable, effective, and high-quality procedures. Even if you purchase dental implants for thousands of euros from many countries, the clinic will not look after you once your treatment is complete. However, this is not the case in Turkey. You will have a warranty on the medical care you receive in Turkey.
If you experience issues with your implants, the dental clinic will suggest a course of action for you to take. If they are unable to do this, you can still assert your legal rights using the bill you were given for the treatment. The most significant characteristic that sets Turkey apart from other nations is the attention placed on patient satisfaction and the fact that communication with the patient continues even after the treatment.
Why CureHoliday?
**Best price guarantee. We always guarantee to give you the best price.
**You will never encounter hidden payments. (No hidden cost)
**Free Transfers (Airport – Hotel – Airport)
**Our Dental Holiday Packages include the price for accommodation.